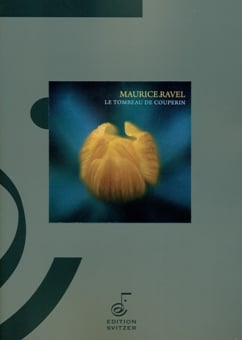 Ravel, M.- Le Tombeau de Couperin
$ 53.96
TITLE:
Le Tombeau do Couperin

COMPOSER:
Maurice Ravel
PUBLISHER:
Edition Svitzer
ED/ARR:
Erik Norby
INSTRUMENTATION:
Flute Choir
DESCRIPTION:

"Le Tombeau de Couperin" is originally a suite for solo piano, composed between 1914 and 1917. It's in six movements but in 1919 Ravel orchestrated only four movements of the work (Prélude, Forlane, Menuet, and Rigaudon). The Danish composer Erik Norby orchestrated these four movements in 1986 for the Kuhlau flute quartet (two C-flutes, piccolo, alto flute, and bass flute.) Because of Erik Norby's great orchestration ability and vivid perception of Ravel's music, this seemingly impossible task was brilliantly solved. In its new form, "Le Tombeau de Couperin" became a success both as far as the audience and music critics were concerned.

Ravel stated that his intention was never to imitate or tribute Couperin himself, but rather was to pay homage to the sensibilities of the Baroque French keyboard suite. This is reflected in the structure which imitates a Baroque dance suite. However, Ravel's neoclassicism shines through with his pointedly twentieth-century chromatic melody and piquant harmonies.

During World War I, Ravel himself was an ambulance driver and was wounded while serving. Each movement is dedicated to the memory of friends of the composer who had died fighting in the War. When criticized for composing a light-hearted and sometimes reflective work rather than a somber one, for such a somber topic, Ravel replied: "The dead are sad enough, in their eternal silence." The movements are: 

I. Prélude- "To the memory of Lieutenant Jacques Charlot"

II. Forlane- "To the memory of Lieutenant Gabriel Deluc"

III. Menuet- "To the memory of Jean Dreyfus"

IV. Rigaudon- "To the memory of Pierre and Pascal Gaudin"