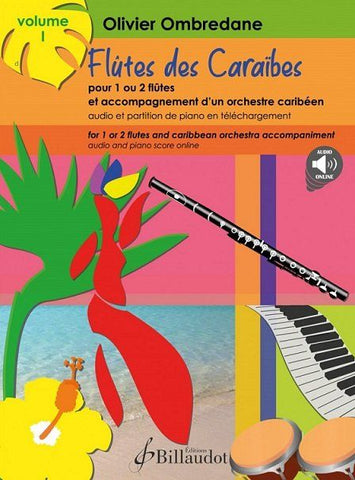 Ombredane, O. - Flûtes des Caraïbes (v.1)
$ 26.95
TITLE:
Fl

û

tes des Caraïbes (v. 1)

COMPOSER:
Olivier Ombredane

PUBLISHER:
Éditions Billaudot

INSTRUMENTATION:

1-2 Flutes, Audio Access

DESCRIPTION:

Flûtes des Caraïbes (Caribbean Flutes) (v.1)  for 1-2 Flutes by Olivier Ombredane

Includes online audio access to piano, bass and percussion or piano accompaniment tracks.

Contents:

Tout va Bien

Chacha gozar

Marche aux fleurs

Coleur porro

Carnaval zouk

Sweet bolero

Aromes cannelle

Alors <on danse>!

Ti punch coco

Tranquilo

Flûtes des Caraïbes (Caribbean Flutes) (v.1) features ten original compositions and highlights just as many music styles, including Zouk, Mazurka, Guajira, Guaguanco, Porro… from the Caribbean world, a fabulous melting pot of cultures. Dancing at the crossroads of Afro-Cuban, Afro-European and American influences, this swaying music has retained the syncopated rhythms of its origins.  These pieces are suitable for flutists with a good mastery of the instrument (intermediate level).  The pieces may be played as a solo or a duet, together with the provided Caribbean orchestra (piano, bass and percussion) or piano playbacks. Additional audio files offer a specific rhythmic focus that leads to and promotes improvising.  Altogether, the sensory approach makes for a smooth introduction to this repertoire.

Also includes information about the various music styles and genres of each piece.