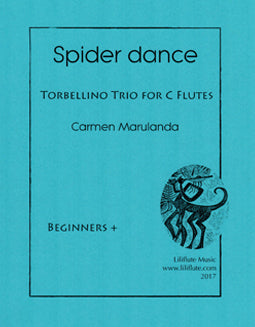 Marulanda, C.L. - Spider Dance
$ 15.00
TITLE:
Spider Dance - Torbellino Trio for C Flutes
COMPOSER:
Carmen Marulanda
ARRANGER:
N/a
PUBLISHER:
Lili Flute

INSTRUMENTATION:

3 C Flutes
DESCRIPTION:

The Torbellino and Guabina are peasant's rhythms from the Central and North Eastern regions of Colombia. They are two very similar, short harmonic cycles: just three chord in swift rolls; some are lively and some are slow, even meditative. The Torbellino usually allow for great virtuosity in improvisations on the Requinto (a small steel-guitar). These forms can be instrumental or vocal, we transcribe them in 3/4 meter. 
The interaction with rhythms and harmonies aiming to train good musical reflexes by gradually improving intonation, technique and musicianship. The dialogue between music teaching and Colombian musical tradition is rooted in ancient musical practice: learning in real harmonic and rhythmic contexts.