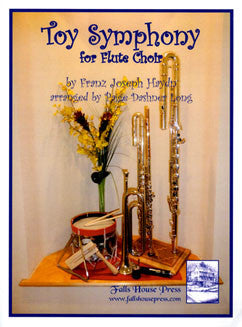 Haydn, F.J. - Toy Symphony
$ 14.95
TITLE:
Toy Symphony
COMPOSER:
Franz Joseph Haydn
PUBLISHER:
Falls House Press
ED/ARR:

Paige Dashner Long
INSTRUMENTATION:
Flute Choir
DESCRIPTION:

For over 200 years, Haydn's charming composition Kindersymphonie in C Major, also known as the "Toy Symphony", has delighted audiences and musicians of all ages. This three movement light hearted composition for toys amuses all who experience it. 

Long's arrangement of the Toy Symphony is scored for Flute 1, Flute 2, Alto Flute, Bass Flute and, of course, toys. Although there is not a separate contrabass flute part, the contrabass flutes should play the bass flute part. (They shouldn't miss out on the fun!)

The "toy" instruments heard in this work are trumpet, tenor drum, cuckoo, nightingale, rattle, and triangle with a surprise appearance of a quail in the trio section of the Menuetto. Most well-equipped percussion departments have these instruments readily available. It is also possible to find these "toy" instruments at a store that sells percussion instruments. The trumpet part may be played using a toy trumpet or a real trumpet. In either case, the trumpet must play the pitch of concert G. All of the toy parts can be played by any musician that can read simple rhythms. For instance, the drum part does not include any rolls or percussion techniques. One must simply hit the drum with a stick.