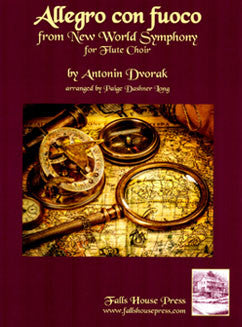 Dvorak, A. - Allegro con fuoco from New World Symphony
$ 27.95
TITLE:
Allegro con fuoco from New World Symphony
COMPOSER:
Antonin Dvorak
PUBLISHER:
Falls House Press
ED/ARR:

Paige Dashner Long
INSTRUMENTATION:
Flute Choir
DESCRIPTION:

Antonin Dvorak's Symphony No 9 in E Minor, opus 95 "from the New World" is perhaps this Bohemian composer's most well known and loved composition. Premiered at Carnegie Hall on December 16, 1893, the "New World" Symphony was the first work Dvorak completed during his 2½ year stay in America or his "new world."

While in New York, Dvorak began composing works with a distinct American flavor. Using melodies and motifs reminiscent of American folk tunes, Dvorak masterfully created the famous Symphony No 9, "New World." This began a legacy to a style of music that was distinctly American.

The Allegro con fuoco, the fourth and final movement of the "New World" Symphony, is originally scored for full symphonic orchestra. Although the orchestral work does not include piccolo, this flute choir arrangement uses piccolo to cover the very high passages of the first violin section.  

Scored for piccolo, flutes 1-4, alto flute, bass flute with optional contrabass flute, this arrangement is crafted for flute ensembles of many sizes. For large flute choirs, the divisi sections create the lush harmonic texture found in the original work. Smaller flute choirs will also enjoy performing this treasured work by simply using the top notes of divisi sections.