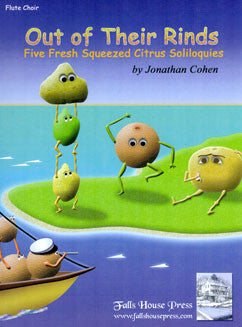 Cohen, J. - Out of Their Rinds
$ 29.95
TITLE:
Out of Their Rinds: Five Fresh Squeezed Citrus Soliloquies
COMPOSER:
Jonathan Cohen
PUBLISHER:
Falls House Press
ED/ARR:

n/a
INSTRUMENTATION:
Flute Choir
DESCRIPTION:

Share five juicy stories with your audience from the fruity world of citrus land.The piece begins with the jaunty jig "Gigue L'Orange," then goes a bit off kilter with "An Ugli Fruit Goes Bad," featuring the low flutes in a minor and somewhat sinister dance. The piccolo then leads in the hornpipe "Lemon-Lime, So Sublime."  "The Wistful Grapefruit" is a bittersweet Celtic air.  Finally, the piece finishes with the bouncy and nautical "Voyage of the Clementines."

Scored for piccolo, 4 C flutes, alto flute, bass flute, and optional contrabass or second bass flute.