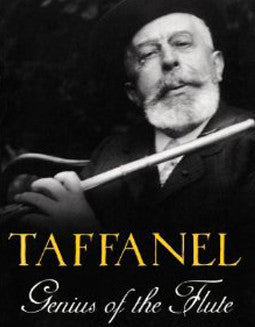 sold
Blakeman, E. - Taffanel: Genius of the Flute
$ 44.95
This product is unavailable
Description: The French flute player and conductor Paul Taffanel (1844-1908) was an extraordinary virtuoso and a major figure in fin-de-siècle Parisian musical life. Based on a treasure trove of private documents of Taffanel's previously unpublished letters and papers, Taffanel: Genius of the Flute recounts the rich story of his multi-faceted career as a player, conductor, composer, teacher, and leader of musical organizations.

As a player, Taffanel had a rare vision of the flute as a serious, expressive instrument and is credited with re-establishing the instrument in the mainstream of music. He was also an inspiring teacher at the Paris Conservatoire, to whom many modern flutists can trace their roots. In 1879, Taffanel founded the Société de musique de chambre pour instruments à vent (Society of Chamber Music for Wind Instruments), reviving the wind ensemble music of Mozart and Beethoven, and breaking the dominance of piano and strings in recital and chamber music. From 1890, he served as chief conductor at the Paris Opera and the Société des Concerts du Conservatoire (Paris Conservatory Orchestra)--the first time a flutist, rather than a string player, had been appointed to such key positions.

Edward Blakeman expertly places these and many other elements of Taffanel's story in the rich political and cultural backdrop of the time, evoking Conservatoire intrigues, the Société des concerts, and Taffanel's relationships with various musicians and major composers. Blakeman details the circumstances surrounding landmark commissions, performances, and repertoire, and weaves the details from Taffanel's correspondence with first-person interviews and flute lore. What emerges is a portrait of an all-around musician who was also a modest and genial man.
This is a paperback edition.