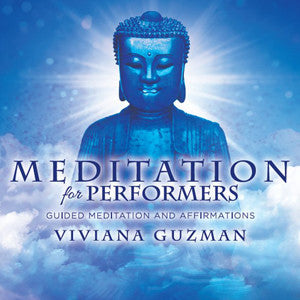 Sale
Meditation for Performers CD (Viviana Guzmán)
$ 19.95
$ 11.97
Artists: 
 Guided Meditation and Affirmations
Tracks:

1. Meditation for Performers
2. Affirming Confidence
3. I Am Positive Affirmations

Described by the New York Times as "an imaginative artist," Chilean-born flutist, Viviana Guzman is an International Touring Flutist who has performed in 122 countries. Her most recent classical recording "Traveling Sonata" received a Grammy Nomination. Born with bi-lateral hip dysplasia, Viviana was told she would never be able to walk. Not only has she overcome this major obstacle in her life but also she is determined to guide others in overcoming their challenges. Another hindrance that stemmed from growing up in body casts and wheelchairs was her overwhelming insecurity and painful fear of the stage as a young adult. These challenges were embraced gracefully, and now she provides guidance for others to overcome their fear of performing via meditations and affirmations. "Parallel to when we play incorrect notes in a musical phrase, and the correct patters have be exercised with massive repetitions, we must use this same system to re-train our brains to think positive thoughts. This is the way of ensuring that the words we use are in alinement with our higher selves," says Viviana. These powerful meditations and affirmations are recommended to be used before going to sleep or during the day in a peaceful room at home or outside in nature.