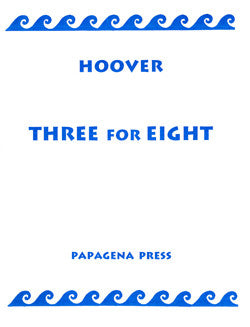 Hoover, K. - Three For Eight
$ 18.99
TITLE:
Three For Eight
COMPOSER:
Katherine Hoover
PUBLISHER:
Papagena Press
INSTRUMENTATION:
Flute/Piccolo, 6 C Flutes, Alto Flute
DESCRIPTION:

Three For Eight was written for my friends and fellow flutists in the New York and Long Island Flute Clubs. Much of this piece was written during a blizzard, which may account for its obsession with summer at the beach.

The first movement Dunes, is about the slow shifting of shapes (colors, harmonies) that one sees in sand and clouds. Sandpipers draws its motion from the quirky scurrying of bunches of these little birds as they chase the waves up and down the beach. Kites sail with great freedom by the ocean, gliding gracefully, then darting and diving with sudden gusts.