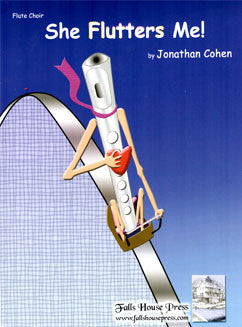 Cohen, J. - She Flutters Me!
$ 27.95
TITLE:
She Flutters Me!
COMPOSER:
Jonathan Cohen
PUBLISHER:
Falls House Press
ED/ARR:

n/a
INSTRUMENTATION:
Flute Choir
DESCRIPTION:

Here are adrenaline-filled impressions of new love: incandescent glances, scintillating touches, crushing miscues, soaring daydreams.  The piece begins with the exhilarated "She Smiled At Me — Twice!," an exuberant celebration shouting joy to the whole world presented in alternating meter.  But joy is stopped cold by to the dark blue "Oh, She Has a Boyfriend...," in which the flutters of rapture turn to the buzzings of despair.  But all is made right with the final movement, "She Loves Me!," a rollicking jig happily interrupted by warm daydreams.
 
Scored for piccolo, 4 flutes, alto, bass, and optional contrabass.

Performance time: 6 to 7 minutes.