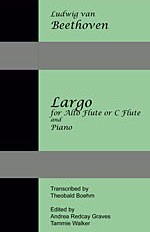 Beethoven, L. - Largo for Alto Flute or C Flute and piano
$ 12.95
TITLE:
Largo for Alto Flute or C Flute and piano
COMPOSER:
Ludwig van Beethoven

PUBLISHER:
Progress Press
ED/ARR:
Theobald Boehm, Andrea Graves, Tammie Walker

INSTRUMENTATION:
Alto Flute or C Flute, Piano
DESCRIPTION:

Flutists universally recognize Theobald Boehm (1794-1881) as the creator of the modern concert flute in C, but few know that his favorite flute was the modern alto flute in G, which he created in 1850. In his treatise Flute and Flute Playing, Boehm writes:

My ideal of tone - large, sonorous, and powerful, admitting of every gradation from pianissimo to fortissimo - is still the tone of my silver flute in G. The effect I have repeatedly produced, when playing it, although now I am an old man of 78 years, is such that I only regret that I did not make this flute forty years ago. 

To promote his alto flute on concert tours, he arranged twenty-three pieces for alto flute in various chamber settings from the music of composers including Bach, Beethoven, Haydn, Mozart, Rossini, and Weber. These arrangements were completed ca. 1855, the same year Boehm sold his first alto flute. 

---Andrea Redcay Graves
    Editor
Publisher's note: Progress Press is proud to introduce this lovely arrangement in two formats, one for the alto flute, as Boehm intended, and the other for the C Flute, recognizing that many flutists who would like to explore the beauty of this Beethoven transcription may not have access to an alto flute.