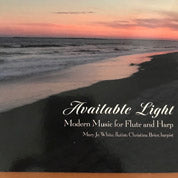 Sale
Available Light: Modern Music for Flute and Harp
$ 19.95
$ 11.97
Artists: 

Mary Jo White, flute

Christina Brier, harp
Tracks:
Jacques Castérède (1926-2014)
Sonatine de mai pour flute et harpe (2001)
1. Allegretto piacevole
2. Chanson de la brise
3. Dans le bleu de la nuit 
4. Final 
pub. by Carl Fischer o/b/o Theodore Presser: authorized representative for Gerard Billaudot

David Kechley (1947-   )
Available Light: Midwinter Musings for Flute and Harp (2005) 

5. Frenetic Reflection 
6. Cold Fusion 
7. Lyric Transformation 
pub. by Pine Valley Press
Henk Badings (1907-1987)
8. Cavatina for Alto Flute and Harp (1952)
pub. by Donemus Muziekgroep Nederland
Lindsey Jacob (1983-   )
9. Beyond the Waves - Newly-Commissioned Work for Mary Jo White (fl/picc) and Christina Brier (hp) (2018)
Gareth Farr (1968-   )
Taheke for Flute and Harp (2002)
10. Allegro
11. Andante
12. Presto
pub. by Promethean Editions, Ltd.