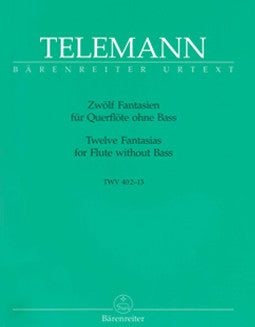 Telemann, G.P. - Twelve Fantasias for Flute without Bass
$ 23.99
TITLE:
Twelve Fantasias for Flute without Bass
COMPOSER:
Georg Philipp Telemann
PUBLISHER:
Barenreiter
ED/ARR:
Günter Haußwald
INSTRUMENTATION:
flute
DESCRIPTION:

Barenreiter Urtext is a seal of quality assigned only to scholarly-critical editions. It guarantees that the musical text represents the current state of research, prepared in accordance with clearly defined editorial guidelines. 

The present Urtext edition of the Twelve Fantasias for traverse flute without bass prove to be a faithful reflection of the age. Delight in playing, freedom in form, in the time and in the key structure emphasiss the improvisatory character of the works.