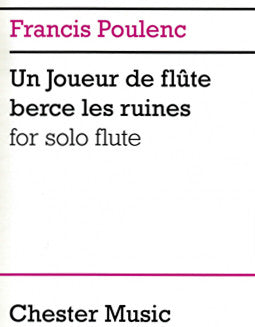 Poulenc, F. - Un Jouer de flute berce les ruines
$ 9.95
TITLE:
Un Jouer de flute berce les ruines
COMPOSER:
Francis Poulenc
PUBLISHER:
Chester Music
ED/ARR:
n/a
INSTRUMENTATION:
Flute
DESCRIPTION:

Un Joueur de flute berce les ruines

(A flute player lullabies the ruins), is dated 1942. There is little information known about this piece since discovery of the manuscript. The work is modal and melancholic in style, its contours and economy recall the composer's earliest works. It is short and simple, but of undeniable beauty, and undoubtedly an important addition to the solo flute repertoire.