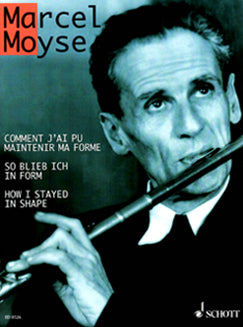 Moyse, M. - How I Stayed In Shape
$ 29.99
TITLE:
How I Stayed In Shape
COMPOSER:
Marcel Moyse
PUBLISHER:
Schott
ED/ARR:
n/a
INSTRUMENTATION:
Flute
DESCRIPTION:

Here Moyse has set out his pedagogic and artistic experiences in their entirety with the aim of helping not only professional flute players who have little time to practice, but not "everyone who loves the flute, while not forgetting the music."

Thus this volume is not restricted to technical exercises which often follow traditional patterns (Reichert), but it also aims to improve the basic aspects of flute playing (formation of tone, intonation, articulation, phrasing) using examples selected from the repertoire and in the service of musicality. As is always the case for Moyse, song, the world of music drama, opera is the prime model of expressive performance. Thus in pursuit of his intentions Moyse occasionally offers very detailed comments, especially concerning vibrato, enlivened by his own particular brand of humor.