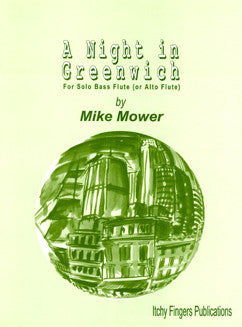 Mower, M. - A Night in Greenwich
$ 15.32
TITLE:
A Night in Greenwich
COMPOSER:
Mike Mower
PUBLISHER:
Itchy Fingers Publications
INSTRUMENTATION:
Solo Bass, or Alto Flute
DESCRIPTION:

A Night in Greenwich was commissioned by Marion Garver in January 1997. It is a work for solo bass flute which was written to highlight the tonal qualities and agility of her bass flute made by Eva Kingma. it was premiered by Marion Garver at the National Flute Association convention in Chicago, August 1997. 

Although originally written for the bass flute, A Night in Greenwich performs equally well on both alto or concert flutes.