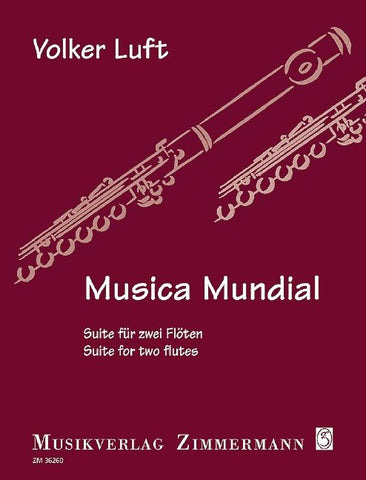 Luft, V. -Musica Mundial
$ 17.05
TITLE:
Musica Mundial

COMPOSER:
Volker Luft
PUBLISHER:
Zimmermann
ED/ARR:
n/a
INSTRUMENTATION:
2 Flutes

DESCRIPTION:

"Musica Mundial" (World Music) by German composer Volker Luft (b.1964) presents flautists a wonderful opportunity to undertake a buoyant voyage through world music:  Short pieces in various styles from samba, blues, cool jazz, Celtic waltz and flamenco to South German landler, Arab and Japanese folk song add variety to the flute repertoire.

Individual pieces include:

Bahia – This samba is named after the Brazilian federal state of Bahia.  The samba is considered to epitomize Brazilian music.  As is customary for sambas,

 

Bahia

 

is to be played in a fast tempo.
Baton Rouge – The blues is originated in the South of the USA and had a lasting stylistic influence on today's pop music.  A blues is played with what is known as "swing feel":  quavers notated in binary meter are played as triplets, whereby the first two quavers are tied.
Hokkaido – An imaginary Japanese folk song, characterized by the use of the pentatonic scale typical of Asian music.
Isle of Sky – Irish and Scottish folk music, known as Celtic music, is one of the most popular kinds of folk music in the world.  The dances found in this beautiful music include the Celtic waltzes.
Brooklyn – A particular style of jazz music emerged in New York in the late nineteen-forties;  Cool Jazz, which integrates elements of European art music into jazz.
Belenos – The "Landler" is a typical Southern German folk dance in three-four time. 

 

Belenos

 

takes its name from Mount Belechen (Celtic name Belenos), one of the loveliest peaks in the Southern Black Forest.
Marrakesch – A particular stylistic feature of Arab music is its interval structures which differ greatly from those in European music.  In Marrakesh these melodic characteristics are taken up and shaped into an imaginary Arab folk song.
Algeciras – Paco de Lucia, one of the greatest flamenco artists of all time, was born in Algeciras (Andalusia).  What could be more apt, then, than to give a flamenco the name

 

Algeciras.