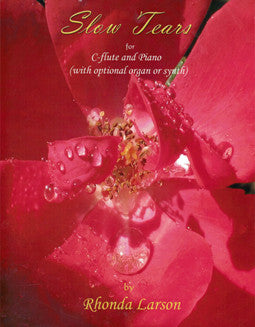 Larson, R. - Slow Tears
$ 15.00
TITLE:
Slow Tears
COMPOSER:
Rhonda Larson
PUBLISHER:
Wood Nymph Music
ED/ARR:
n/a
INSTRUMENTATION:
Flute, Piano & optional Organ or Synth
DESCRIPTION:

Grammy Award-winning flutist/composer Rhonda Larson has recorded Slow Tears on her "Distant Mirrors" CD. 

The ideal accompanying keyboard for this piece is both piano and synthesizer, one player.  Piano in one hand, while synth is played on the other hand (your choice of which hand, depending upon where the synth keyboard is set up).  The reason for the two keyboards is that the accompanying piano is very basic, and the synth string orchestra sound adds depth and fills out the "dropping of tears" of the piano.  (Listen to the recording of this piece on "Distant Mirrors", and you will intuitively understand.)  Piano is written in the bottom staff, unless otherwise noted, while the synth part exists mainly in the sustained notes.  If you only have a piano to accompany this, make it a Grande one, responsive to the fact that your notes need to sustain and be played with the same sensitivity in the striking of the chords as if you were a string orchestra.