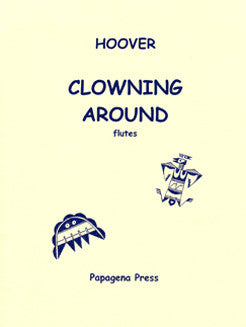 Hoover, K. - Clowning Around
$ 14.99
TITLE:
Clowning Around
COMPOSER:
Katherine Hoover
PUBLISHER:
Papagena Press
INSTRUMENTATION:
Flute Ensemble, optional Alto Flute and Percussion
DESCRIPTION:

 This piece was written for Make Music New York, which took place in Central Park in June, 2011. It was also done at the National Flute Convention in Charlotte, North Carolina in August of the same year by a large group of attendees, with movement choreographed by Zara Lawler. The piece can be performed by 4 flutists, or by any larger group. 

The alto flute and percussion parts are optional. The alto part was added by request: it simply doubles lower lines. Percussionists have generally used some sort of suspended bell. 

With the steady rhythm and light nature of this piece, I think a tap-dancer would be quite as effective as a percussionist.