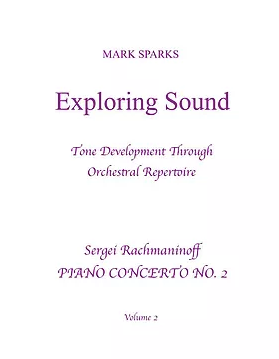 Sparks, M. - Exploring Sound: Vol. 2 Rachmaninoff 'Piano Concerto No. 2'
$ 20.00
TITLE:
Exploring Sound: Vol. 2 Rachmaninoff 'Piano Concerto No. 2'
COMPOSER:
Mark Sparks
PUBLISHER:
Mark Sparks
ED/ARR:
Amy Greenhalgh
INSTRUMENTATION:
Flute
DESCRIPTION:

The Exploring Sound Series is devoted to the flutist's development of artistic tone and phrasing through the playing of melodic passages from great orchestral works.

Volume 2: Rachmaninoff Second Piano Concerto probably has the best melodies of any piano concerto. Explore all of them in this book, with playing tips and transposition in all keys. This volume is the ultimate tone learning tool.