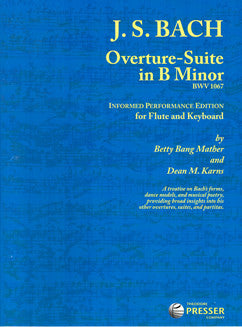 Bach, J.S. - Overture-Suite in B Minor, BWV 1067
$ 19.99
TITLE:
Overture-Suite in B Minor, BWV 1067
COMPOSER:
J.S. Bach
PUBLISHER:
Theodore Presser
INSTRUMENTATION:
Flute, Keyboard
DESCRIPTION:

Informed Performance Edition for Flute and Keyboard by Betty Bang Mather and Dean M. Karns. 

A treatise on Bach's forms, dance models, and musical poetry, providing broad insights into his other overtures, suites, and partitas.