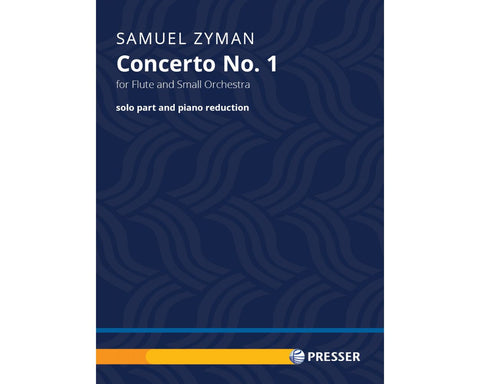 sold
Zyman, S. - Concerto No. 1
$ 22.50
This product is unavailable
TITLE:
Concerto No. 1

COMPOSER:
Samuel Zyman
PUBLISHER:
Theodore Presser
ED/ARR:
n/a
INSTRUMENTATION:
Flute, Piano
DESCRIPTION:

Concerto No. 1 for Flute and Small Orchestra by Samuel Zyman

Piano reduction and flute solo part

Duration: 18:00

I. Allegro energico

II. Lento espressivo

III. Allegro animato

Zyman's first major work for flute, Concerto #1 is scored for a chamber orchestra of 5 winds, timpani, and strings.  With this publication, the concerto is now available in print with a performance-ready piano reduction.  Flutist Maria Canales premiered the work in 1991 with the Conjunto de Camera de la Ciudad de Mexico, which commissioned the work.