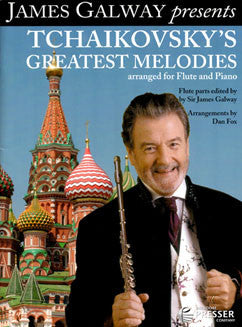 sold
Tchaikovsky, P. - Greatest Melodies
$ 24.99
This product is unavailable
TITLE:
James Galway presents Tchaikovsky's Greatest Melodies
COMPOSER:
Peter Ilyitch Tchaikovsky
PUBLISHER:
Theodore Presser
ED/ARR:
James Galway & Dan Fox
INSTRUMENTATION:
Flute, Piano
DESCRIPTION:

This big book of Tchaikovsky favorites includes nineteen of Tchaikovsky's best-loved melodies, perfect for flute and piano settings. Our sixth title in the ongoing series James Galway Presents... is our best yet. Galway covers the breadth of Tchaikovsky's works, choosing specific movements from symphonies and concertos, with individual works and extracts from Swan Lake and The Nutcracker. A treasure trove of new material for flutists at a very attractive price!