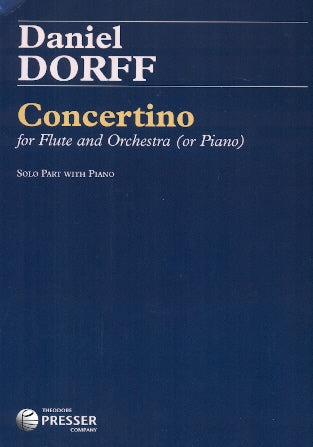 sold
Dorff, D. - Concertino
$ 21.99
This product is unavailable
TITLE:
Concertino

COMPOSER:
Daniel Dorff
PUBLISHER:
Theodore Presser
ED/ARR:
n/a
INSTRUMENTATION:
Flute, Piano
DESCRIPTION:

Composed for Jasmine Choi's premiere on the 2018 NFA concerto gala, Dorff's CONCERTINO is a 10-minute showpiece full of flash and theatricality, elegantly balanced with beauty and lyricism. The work is fully suitable for flute and piano recitals, while the orchestral version is easy to program, even when rehearsal time is limited.

Orchestral Instrumentation: Oboe, 2 Bb Clarinets, Bassoon, F Horn, Percussion (1 or 2; Glockenspiel, Bass Drum, 2 Suspended Cymbals, large and small), Solo Flute, Strings (minimum personnel 2-2-2-2-1 needed for divisi)

Orchestral score and parts are available on rental from the publisher. Orchestral score is published (416-41651 for 9x12 score; 416-41651L for 11x14 score).