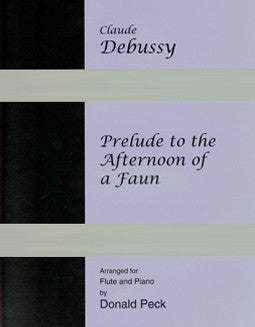 sold
Debussy, C. - Prelude to the Afternoon of a Faun
$ 12.95
This product is unavailable
TITLE:
Prelude to the Afternoon of a Faun
COMPOSER:
Claude Debussy
PUBLISHER:
Progress Press
ED/ARR:
Donald Peck
INSTRUMENTATION:
Flute, Piano
DESCRIPTION:

The Prelude was written by Debussy in 1893 as his sensuous musical interpretation of Mallarme's poem, 

L'Apres-midi d'un Faune.

 The score was adapted as a ballet by Nijinsky in 1912. The poem depicts the dreams and desires of the Faun's imagination as they stir in the shimmering afternoon heat. 





The Faun was Debussy's first major orchestral work, and one for which he received the prestigious Grand Prix du Rome. 





Donald Peck brilliantly captures the textures of the orchestral score in his arrangement for flute and piano, an arrangement that is heard on recital programs with impressive frequency.