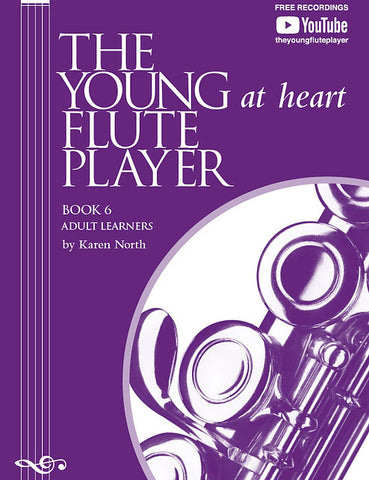 North, K. - The Young Flute Player: Book 6
$ 18.00
TITLE:
The Young at Heart Flute Player: Book 6

COMPOSER:
Karen North
PUBLISHER:
N/A

ED/ARR:
N/A
INSTRUMENTATION:
Flute

DESCRIPTION:

The Young At Heart Flute Player method book is written specifically for adult learners & teenage learners and contains everything they need for a great start in playing the flute. 

 There are 30 progressive units, with new material introduced gradually. The scales are related directly to the pieces, and the exercises help students practise new material, or prepare the difficult sections of a piece.  

There is a wide range of music by composers such as Mozart, Beethoven, Bartok and Dvorak, plus traditional tunes from around the world. The arrangements include solos, duets and pieces with optional piano accompaniment (piano parts in Book 3).

To help students practise, there are FREE YOUTUBE recordings for every piece, as well piano backing tracks and duet recordings.