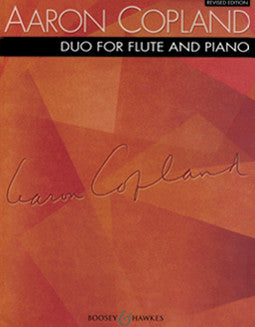 sold
Copland, A. - Duo for Flute and Piano
$ 16.99
This product is unavailable
TITLE:
Duo for Flute and Piano
COMPOSER:
Aaron Copland
PUBLISHER:
Boosey & Hawkes
ED/ARR:
n/a
INSTRUMENTATION:
Flute, Piano
DESCRIPTION:

A newly engraved and researched edition from the composer's manuscript held in The Aaron Copland Collection at the Library of Congress with extensive critical commentary by the editor. Also included is a brief biography of the composer and a short history of how the piece was composed.

The Duo for Flute and Piano was composed on commission from a group of people and friends of the late William Kincaid, for many years solo flutist of the Philadelphia Orchestra. Completed in 1971, it was first performed by Elaine Shaffer and Hephzibah Menuhin at the Settlement Music School in Philadelphia, PA.