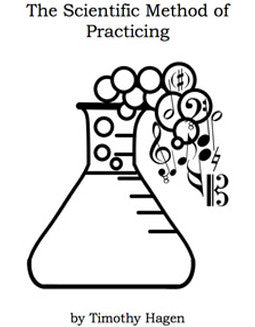 sold
Hagen, T. - The Scientific Method of Practicing
$ 10.00
This product is unavailable
Description:
Timothy Hagen is an internationally acclaimed flutist, praised for his "technical virtuosity and musical sensitivity" (NewMusicBox). He won First Prize as well as the award for Best Performance of the Newly Composed Work (Gary Schocker's Prestidigitation, or POOF!) at the 2016 Myrna W. Brown Artist Competition, sponsored by the Texas Flute Society. Past awards include Second Prize at the Australian International Flute Competition, the Jack Smith Memorial Award for Most Promising Talent at the Pasadena Showcase House Instrumental Competition, two Artist Grants from the Léni Fé Bland Foundation, and the prestigious Graduate Scholarship from the Jack Kent Cooke Foundation. He was also the only American semifinalist named in the 2007 Jeunesses Musicales International Flute Competition in Serbia. 
As Principal Flute of the Missouri Symphony, Hagen spends his summers in Columbia, MO, where he has performed multiple times as a concerto soloist. He also substitutes regularly with the Symphony of Northwest Arkansas and as Principal Flute with the Dallas Wind Symphony. Over the past decade, he has been active as a guest musician with ensembles throughout the country, including the Minnesota Orchestra, San Antonio Symphony, Eugene Symphony, Midland-Odessa Symphony, Las Colinas Symphony, and Winston-Salem Symphony. In addition, he has had solo debuts at New York's Lincoln Center and 92nd Street Y and performed at the Atlantic, Hot Springs, and Las Vegas Music Festivals, as well as the Norfolk and Austin Chamber Music Festivals. 
The depth and breadth of Hagen's experience as an educator distinguish him. He currently serves as Instructor of Flute at Brookhaven College. Additionally, he has taught at Oklahoma State University, The University of Texas at Austin, Lincoln Center, the Los Angeles Philharmonic, and the Dallas Symphony, among many other fine institutions. His private students have consistently won regional and national awards and auditions, and he is in high demand as a teacher, clinician, and speaker at universities, festivals, and conventions throughout the United States, Canada, and Australia. He is also frequently called upon as an adjudicator on regional and national levels, including for the National Flute Association's Young Artist and Piccolo Artist Competitions.